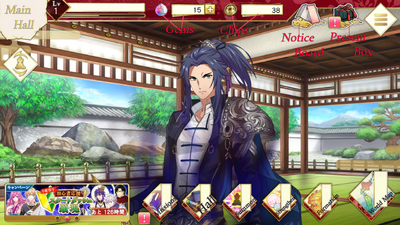 The
Main Hall
(本堂) is the home screen of the game, and the first screen that is accessed after logging in.
A variety of information can be obtained from the main hall.
Main Hall
Edit
Clicking on the Main Hall button in the top-left corner will hide the UI. Clicking again will undo this.
Swap Attendants
Edit
Clicking the swap button below will pull up a menu where you may input two of your preferred characters. They will now show up on the Main Hall screen and you may click on them to hear them speak. The third slot allows you to set a divine power that is displayed on your profile for friends to see.
You may only set characters you have already summoned as attendants.
Player Details
Edit
The player's name along with level is displayed. The progress bar below gives a measure of how much experience is required to level up.
This displays the amount of gems possessed. Clicking on the + button will take you to the shop, where you may purchase more gems if needed.
This displays the amount of coins possessed. Coins are used to buy different backgrounds from the Backgrounds section or for strengthening dieties.
Notice Board
Edit
This displays information by the developers. There are three tabs, one for game notices, one for a summary of the game, and one for FAQ. Relevant information from here can be found in the Recent Updates page.
Present Box
Edit
The present box holds any items gained through log-in bonuses, friends visiting, awakening deities etc. 
Main Menu
Edit
The main menu is accessible from most pages
, providing a way to jump quickly between features. 
Notifications
Edit
The bottom-left corner of the screen displays a slideshow of current in-game happenings, such as events, summoning campaigns, etc.
This shows a list of ongoing or completed quests. An exclamation mark indicates that players have unclaimed rewards. For a list of missions, refer to the Missions page.
The Hall is where players can assign duties to their characters and gain a small amount of currency. Refer to the Hall page for more details.
Summoning
Edit
This button takes players to the summoning screen, which will display all active banners.
Strengthening
Edit
This button takes players to the strengthening screen, where you may strengthen any character or divine power of your choice using strengthening items and coins.
Formation
Edit
This button takes players to the formation screen, which allows players to set up their party and equip divine powers.
World Map
Edit
This button takes players to the world map, where they may initiate combat to gain experience and drops. For further details, refer to the World Map page.
Community content is available under
CC-BY-SA
unless otherwise noted.